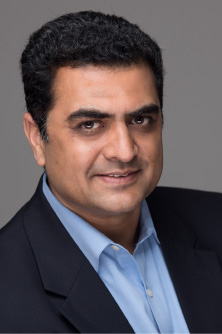 Anand Atre
Anand is a cybersecurity and technology business leader with over 25 years of Fortune 500 and entrepreneurial experience launching and leading technology groups, consulting practices, and his own consulting firm.
Currently, Anand is the Deputy Chief Security Officer at Crux Informatics leading cyber risk management, information security and security operations. Prior to Crux, Anand was Managing Partner at Beigelman Risk Advisors, an advisory firm specializing in business strategy and cyber risk management.  Anand's background also includes technology leadership positions at Sun Microsystems, Oracle, Cisco, and Teradata.  He has worked extensively with clients in financial services, healthcare, and higher education industries in the areas of risk management, information management and security.
Anand holds a BE degree in Electronics & Telecommunications from Karnatak University, a MS in Electrical Engineering from New Jersey Institute of Technology, and an MBA from University of North Carolina, Kenan-Flagler Business School.
Don't wait another day, become a member and start protecting your business. With your annual membership your company will have access to the full suite of capabilities and educational support.
If you have been the victim of a cyber crime or cyber bullying, contact us at
me@nationalcybersecuritysociety.org.
We will be happy to provide you a free or discounted membership to help you on the road to recovery.